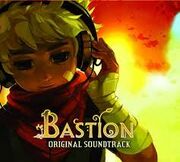 The Bastion Soundtrack consists of 22 pieces (including 1 bonus track) composed by Darren Korb for the game Bastion.
Ashley Barrett provides the vocals for Zia, while Zulf's lyrics are sung by Korb himself. As the voice of Rucks, Logan Cunningham sings both "What's Left Undone" and "Pantheon" in character.
The soundtrack can be sampled and purchased from Supergiant's website here.
Playlist
1. Get Used to It
2. A Proper Story
3. In Case of Trouble
4. Bynn the Breaker
5. The Sole Regret
6. Twisted Streets
7. Terminal March
8. Percy's Escape
9. Faith of Jevel
10. Mine, Windbag, Mine
11. Slinger's Song
12. Build that Wall (Zia's Theme)
13. Spike in a Rail
14. What's Left Undone
15. Brusher Patrol
16. The Mancer's Dilemma
17. Mother I'm Here (Zulf's Theme)
18. Pale Watchers
19. The Bottom Feeders
20. From Wharf To Wilds
21. Setting Sail, Coming Home (Ending Theme)
22. The Pantheon (Ain't Gonna Catch You)
References
Korb, Darren. "Bastion Original Soundtrack" Supergiantgames.bandcamp.com. Updated August 5 2011. Retrieved Dec 28, 2011.
Hamilton, Kirk. "The Best Game Music of 2011: Bastion". Kotaku.com. Updated Dec 28 2011. Retrieved Dec 28, 2011.