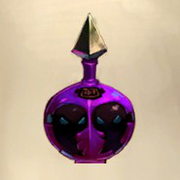 Dreadrum is one of the spirits in the game Bastion.
Description
Pungent concoction that calms senses and steadies nerves.
Favored by the Breakers and other fighting forces.
"Dreadrum's brewed from Swampweeds, so its effect is as bold as its flavor."
Effect
+10% Critical Hit Chance
Active Only When at Full Health
Other
Ad blocker interference detected!
Wikia is a free-to-use site that makes money from advertising. We have a modified experience for viewers using ad blockers

Wikia is not accessible if you've made further modifications. Remove the custom ad blocker rule(s) and the page will load as expected.