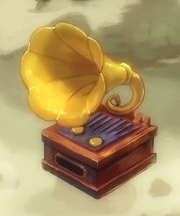 A
memento
.
Recovered from Mount Zand.
Allows the player to choose soundtracks while in the Bastion.
Description
"A device that generates music using specially-engraved discs.
Caelondia's musical traditions are grounded in folk songs with soulful melodies.
Few traces of those traditions remain."
Dialogue
To Rucks: "Is it all right if we use this here? It's not like the neighbors are going to complain."
"S'pose it's true a little song can put things in perspective."
To Zia: "Do you know how to use something like this? Thought you might like it."
"Fixed that thing right up didn't we? Made these goings-on a little livelier."
Ad blocker interference detected!
Wikia is a free-to-use site that makes money from advertising. We have a modified experience for viewers using ad blockers

Wikia is not accessible if you've made further modifications. Remove the custom ad blocker rule(s) and the page will load as expected.