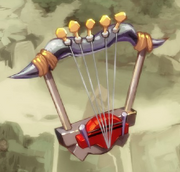 A
memento
discovered during the
Ura
assault on
the Bastion
, after
the Kid
returns from
Burstone Quarry
.
Description
"Zia's musical instrument.
She never went anywhere without it. It seems unthinkable that she would leave it behind.
Unless she had no choice in the matter."
Dialogue
To Rucks: "Where is Zia? Did you see what happened to her?"
"What were we to think? They must've gotten her. Taken her back to her rightful home."
To Zia: "Pardon me, Miss. Does this belong to you?"
"Sure you didn't drop that twangy thing on purpose? Just to see if he'd go after you?"
​To Zia during the Ending:
"Any moment I'd want to live again, happened after the Calamity, not before."
Ad blocker interference detected!
Wikia is a free-to-use site that makes money from advertising. We have a modified experience for viewers using ad blockers

Wikia is not accessible if you've made further modifications. Remove the custom ad blocker rule(s) and the page will load as expected.