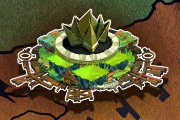 The Bastion was constructed to serve as a sanctuary for displaced citizens in the event of an emergency.
The Kid
sets out for the Bastion after the
Calamity
, hoping to find more
survivors
, and invites survivors that he finds during his travels back there. At the start of the game, the
Cores
which power the Bastion are inexplicably drained and must be replaced with new ones scavenged from crumbling locations outside the Bastion.
Description
"The Bastion: Caelondia's safe haven. Once the highest point in the City. Too bad it wasn't finished when the Calamity struck."
Spoilers
The Monument within the Bastion holds the key to recreating the World That Was by going back in time.
The Monument may also activate an Evacuation protocol which destroyed the Cores in the process.
Rucks designed the Bastion himself, which is why he is intimately familiar with its workings and true functions.
See Also
Ad blocker interference detected!
Wikia is a free-to-use site that makes money from advertising. We have a modified experience for viewers using ad blockers

Wikia is not accessible if you've made further modifications. Remove the custom ad blocker rule(s) and the page will load as expected.