To See The Other Sections Click on Their Tab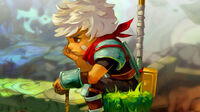 The Kid is the main character in the game Bastion. He is a silent protagonist, but there are indications that he interacts normally with the other characters in the game.
He is a survivor of the Calamity.
Biography
The Kid's past is explored in Who Knows Where via Zulf's Pipe.
Personality
The Kid is proficient with a variety of weapons, having served two tours on the Rippling Walls. He aspired to join the Marshals after completing his second term.
The Kid is a determined individual, as a son, as a Mason, and as a survivor of the Calamity to rebuild the Bastion. Due to his solitary past, The Kid tends to be stoic yet compassionate. He regrets disturbing the petrified remains of Caelondians and immediately invites any survivors he does encounter to the Bastion.
Trivia
In the Arsenal , a cartoon head of Pyth appears on the right leg of The Kid's boxers.
See Also